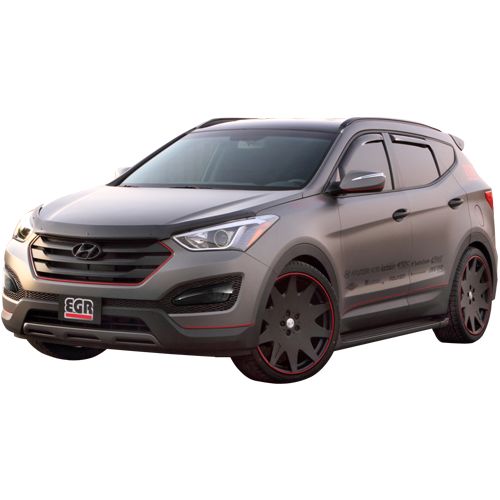 EGR® • 308081 • SuperGuard • Hood Shield
Cruising down the road during the summer months can be a disgusting experience, especially in the nighttime when thousands of bugs commit suicide with the help of your windshield. A hood protector, aka hood or bug shield, is a strip of durable plastic that attaches to the front of the vehicle's hood to deflect bugs. Also, the part protects the paint on the hood from scratches and dents that can be caused by flying debris when the car is in motion, and may also help prevent chips and rocks from cracking the windshield.
The EGR SuperGuard Hood Shield is an excellent choice when it comes to protecting your hood, fender and windshield from damage as you don't have to sacrifice the car's look for that all-around protection with this attractive upgrade. Its wrap-around design ensures complete coverage of your vehicle's parts, while a no-rust, impact-resistant acrylic construction provides reliable and extended service life. The hood shield also features an off-the-hood fit that makes it easy to clean. As for the installation, it is as easy as 123, no drilling or modifications are required. In addition, the Super Guards Hood Shield is covered by a limited lifetime warranty.
Gives ultimate protection and slim look
Custom fit for a full wrap around your vehicle's hood
Air-deflecting shape for added protection
Fade and scratch-resistant construction
Crafted from strong high grade acrylic
Fast and simple installation
OEM quality
Easy to take off for hassle-free cleaning
Backed by a limited lifetime warranty
Installation kit
An installation kit is needed for proper installation on your vehicle
Choose your vehicle
Vehicle

Not selected

Not selected

Not selected

Not selected

Not selected

Not selected

Not selected

Not selected
Continue